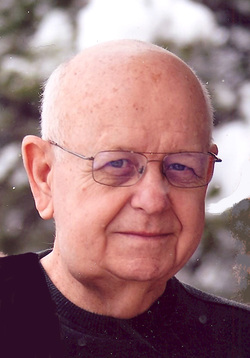 James W. Spawr
December 22, 1941 - January 6, 2013

James W. Spawr, 71, of Decatur, IL, died 7:12 P.M., Sunday, January 6, 2013, at Decatur Memorial Hospital, Decatur, IL.

Funeral services will be 10:00 A.M., Thursday, January 10, 2013, at Brintlinger and Earl Funeral Home, with visitation 6 to 8 P.M., Wednesday, January 9, at the funeral home. Burial will be in Graceland Cemetery, Decatur, IL.

In lieu of flowers, the family requests memorials may be made to Cancer Care Specialists of Central IL, First United Methodist Church or Donor's Choice.

James was born December 22, 1941, in Decatur, IL, the son of James W. Spawr, Sr. and Lavone (Shinneman) Barding. He married Karen M. Peck on December 1, 1962 in Decatur, IL.

Jim was a partner in several local businesses, including Standard Waste, Cubic, Inc., and NW Mini Storage. Some of Jim's favorite hobbies were working on his antique cars, watching his grandchildren's ball games, mornings with the breakfast club, meetings at the 48 Inn, and especially 50 years of road trips with his wife and special friends, Steve and Kathy, and their families.

Survivors include his wife of 50 years, Karen; sons Brad (Susan) Spawr of Valley Park, MO and Kevin (Marcie) Spawr of O'Fallon, MO; sisters Connie (James Ronald) Downing of Champaign, IL, Sandy Barding Kistner of Decatur; brother Junior (Gina) Barding of O'Fallon, MO; brother-in-law Dale (Tricia) Peck of Hartland, WI. He is also survived by his grandchildren, Katie and Braden Spawr of Valley Park, MO and many nieces and nephews.

He was preceded in death by his parents, step-father J.L. Barding, Sr. and sister Betty Beeman.

The family would like to thank Dr. Guaglianone, the nurses, and staff at the Cancer Center for the excellent care they gave Jim.