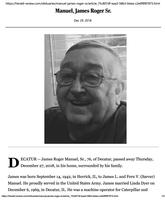 DECATUR -- James Roger Manuel, Sr., 76, of Decatur, passed away Thursday, December 27, 2018, in his home, surrounded by his family.
James was born September 14, 1942, in Herrick, IL, to James L. and Fern V. (Sarver) Manuel. He proudly served in the United States Army. James married Linda Dyer on December 6, 1969, in Decatur, IL. He was a machine operator for Caterpillar and retired after 48 years of service. James was a member of the Masons. He loved watching sports and was an avid St. Louis Cardinal fan.
He is survived by his wife of 49 years, Linda; his three children, James (Vickie) Manuel of Plainfield, IL, Michelle (Steven) Carroll of Macon, IL and Melinda (Mark) Dereak of Forsyth, IL; eleven grandchildren; one great-grandchild on the way; and one brother, Jack (Sue) Manuel of Livingston, TX.
He was preceded in death by his parents; and one brother, Jerry Manuel.
Funeral services to celebrate the life of James Manuel, Sr. will be 11 a.m. Friday, January 4, 2019, at Graceland/Fairlawn Funeral Home. Visitation will be from 5 p.m. to 7 p.m. Thursday, January 3, 2019, with masonic rites to follow at the funeral home. Entombment will be in the Star of Hope Mausoleum in Graceland Cemetery, where full military honors will be conducted by the Macon County Honor Guard. Memorials may be directed to the family.
The family of James Manuel, Sr. is being served by Graceland/Fairlawn Funeral Home, 2091 N. Oakland Ave. Decatur, IL. Please view the online obituary, send condolences, and share memories at www.gracelandfairlawn.com.