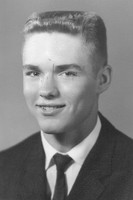 ?
DECATUR -- Dennis D. Honnold, 71, of Decatur, passed away at 5:01 PM Tuesday, February 25, 2014, in Decatur Memorial Hospital.
Memorial services will be conducted at 3:00 PM Friday, February 28, 2014, at Westminster Presbyterian Church. The family will greet friends and acquaintances in the Fellowship Hall of the church following the services. Brintlinger and Earl Funeral Home, Decatur, IL, will be handling the arrangements.
Dennis was born on June 18, 1942, in Des Moines, Iowa, a son of Willard L. and Opal Dyer Honnold. He received a B.S. degree from Millikin University. He later received a Masters' degree from the University of Illinois and was employed at A.E. Staley Manufacturing Co. Soybean Marketing Division, continuing a 27 year service with Staley which had begun in high school. Following A.E.Staley, he was later employed at Illinois Power Co., Marketing Department, from 1987 to 2001.
He was an avid reader, researching many subjects on the internet. He also was a University of Illinois football and basketball fan, a die-hard Chicago Cubs fan, and attended Westminster Presbyterian Church.
Dennis married Penny Ward in Decatur, Illinois, on September 4, 1965. She survives. He is also survived by two sons: Daniel Honnold, of Memphis, TN; Jeffrey Honnold, of Tampa, FL; one brother: W. Lyle Honnold and wife Sally, of Downers Grove, IL; one sister: Kathy Honnold, of Seattle, WA; brother-and-sister-in-law: Dick and Sheila Mannweiler, of Decatur; two nieces: Lisa Gift and Cathy (Herb) Treen; one nephew: Brad Gift; and two great-nephews. He was preceded in death by his parents, and one sister-in-law: Judy Mannweiler.
The family members wish to express their heartfelt gratitude to Vicki and the entire Decatur Memorial Hospital Intensive Care Unit, and also to Dr. Franklin, for their excellent care for Dennis during his illness and hospitalization.
Condolences may be left to the family at www.brintlingerandearl.com.