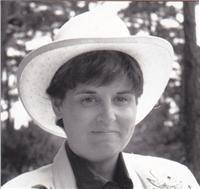 Salinas ~ Lynne Chester, a resident of Oak Hills, passed away at her home on Christmas Day, after a courageous six-year struggle against ALS (Lou Gehrig's disease). Born in Grand Forks, ND, she moved with her parents, Harry and Margaret Welliver, to Decatur, IL, where she met her high school sweetheart, Craig Chester. Lynne graduated from Hillsdale College, where she was a member of the Sigma Alpha Iota music sorority, and took graduate studies at Michigan State University. She taught elementary school music in Michigan and was active in directing theater performances at Village Players of Birmingham, MI.

Following the end of her first marriage to David Pobst, she reconnected with Craig, a co-founder of the Monterey Institute for Research in Astronomy (MIRA), and moved to the Peninsula. They were married in 1984.

Always actively interested in the arts, Lynne especially loved creating ceramic and monoprint art, photographing nature and writing poetry. This interest, coupled with her love of working with people, made for an active life on a number of boards, including those of the Carl Cherry Center for the Arts (where she served as president), the Monterey County Arts Council, and MIRA. She was a moving force behind the concept and the fund-raising for the Monterey Peninsula College Art Gallery.

Lynne is survived by her husband of 27 years, Craig; her son, Ben (Karen) Pobst of Irvine and her brother, David (Mary) Welliver, of Ann Arbor, MI.

Donations in Lynne's memory may be made to MIRA, 200 8th St., Marina, CA 93933.
https://www.dignitymemorial.com/en-ca/obituaries/pacific-grove-ca/lynne-chester-4936985