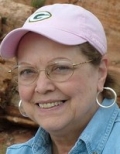 Sherry Anne Sweasy was called Home on Aug. 6, 2011, to spend eternity with her Lord and Savior Jesus Christ. Her husband and daughter were at her bedside. Sherry was diagnosed with stage 4 breast cancer 12 years ago. Her lengthy survival has been described by some medical providers as "unheard of". She attributed her survival to her faith in God, and the love, support and prayers of her family and dear friends. Sherry studied her bible almost daily, and lived her life in a loving and generous example of Christian faith. To know Sherry was to love her.

Sherry was born 69 years ago to William and Jean Merritt Gant. Her stepfather, Wilson Chasteen, taught her to dance, whistle, and drive a stick-shift. She always lovingly called him "Daddy". While attending Millikin University she met Terry Petersen. They were married in 1962 and in 1974 adopted a beautiful newborn girl they named Tracey Jean. Tragically, Terry died in 1983. In 1990, Sherry married William Sweasy and, along with teenager, Tracey, made their home in Allouez, Wis. On their tenth wedding anniversary they renewed their vows on a chartered Foxy Lady sunset dinner cruise on Green Bay with family and friends.

During her twenties Sherry was a fashion model and volunteer supervisor of the local Meals On Wheels. Later she was an executive secretary for several years. She was an active member of Bethel Lutheran Church and a school volunteer. After marrying Bill and moving to Green Bay, Sherry enjoyed working as a receptionist at two area banks.

Affectionately known by her family and friends as "Sassy" for her good-natured quips, she also had an artistic flair and talent. She enjoyed drawing, painting, crafts, creative gift wrapping, flower arranging, and time with family and friends. Sherry's favorite activity was traveling with husband, Bill in their RV, especially their lengthy explorations of the Rocky Mountain regions. On those adventures she loved the wildlife viewing, canoeing, horseback riding, back-country 4X4 exploring, and white-water river rafting. Sherry also loved hummingbird and whale watching in Mexico. Reading was her constant passion, and her favorite book was her Bible.

Sherry has joined her mother, daddy, and former husband, Terry in Heaven. Her memory will be forever cherished by her best friend, soul mate and devoted loving husband, Bill; her beloved daughter, Tracey (Rob) Borowicz; the lights of her life, twin grandchildren, Cody and Breanna Borowicz; brother-and-sister-in-law, Bob and Jane Sweasy; extended-family adults, Robby Sweasy, Tamara Sweasy, Isabel Haegele, Carrie Brackeen, Peter and Becky Delain, Steve and Mary Jo Liesch, Pat and Jenny Heil; extended-family children; Terry's sister, Linda (John) Hughes; special friends, Reverend Landon and Grace Owen; and Sherry's cousin and lifelong special friend in Christ, Pat (Larry) Voiles.

A very heartfelt thank you and deepest gratitude to Dr. Gerald Bayer of Green Bay Oncology for 12 years of compassionate care and friendship, and Dr. Volk and the caring nurses and staff we also came to know, appreciate and admire over the years. Thank you to Dr. Koch and Dr. Sommerfeldt, and the nurses and staff at Unity Hospice for their gentle understanding, care and treatment. Thank you also to Shirley, Lynn and the ninth floor nurses at St. Vincent Hospital. Special thanks to Pastor Scott Malme for his spiritually uplifting visits. What a blessing each of you has been in Sherry and Bill's life.

In addition to her Christian Faith, Sassy will be remembered for her spirit, courage, kindness, generosity, and loving ways. An event treasuring and celebrating her life is pending.

Memorial contributions may be made to Ben's Wish Apple (a charity BEN-efitting local food pantries and providing prepared meals to children - call Associated Bank or go to Benswish.org). Unity Hospice, De Pere is also a favored choice.