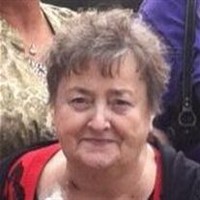 Obituary for Sarah Anne "Sally" Foster
Decatur – Sarah A. "Sally" Foster, 71, of Decatur, passed away Thursday, May 15, 2014 in Decatur.

Sally was born on August 25, 1942 in Decatur, the daughter of Roland Rice and Sarah Janet (Olsen) Birt. Known as the Christmas Room Specialist at Haines and Essick for many years, Sally was a member of Women's Elk Lodge and served as past leader of Brownie Troop #171 and Girl Scout Troop #86. She also served on the board of Shemamo Girl Scout Council of Illinois and was very active and past president of James B. Parson Elementary School PTA. Most recently Sally was known as the charming voice of Computer Service of Decatur.
Sally was preceded in death by her parents; one infant son, Scott; and one niece, Christina.

She is survived by her daughter Sarah Katherine "Kathe" (Sammy) Trusner of Bement; siblings: Arthur D. "A.D." (Debbie) Birt of Sullivan, Mary Margaret (Bill) Robinson of Decatur, and Roland R. "Rodger" Birt of Decatur; grandchildren: Taleb and Terran; nieces: Heather Spainhour, Sarah Marie Musgrave, Lisa King, and Theresa Birt; nephews: Roland A. Birt and Nicholas Birt; along with many other relatives and friends.
The family will receive friends from 10:00 a.m. until 10:30 a.m. with graveside services to celebrate her life at 10:45 a.m. Monday, May 19, 2014 at Boiling Springs Cemetery. Memorials to: Girl Scouts of Illinois or National Kidney Foundation.