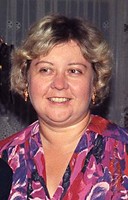 Birth:
Jul. 27, 1942, Decatur, Macon County, Illinois, USA
Death:
Dec. 19, 2011, Durham, Durham County, North Carolina, USA
Sandra was born in Decatur, Illinois to Don Brooks and Virginia Hockaday. She was baptized in the the First Methodist Church in Decatur on April 25, 1943. She grew up in Decatur and attended Roosevelt Junior and Douglas MacArthur high schools. She then went to the University of Illinois, where she graduated in 1964 with a Bachelor of Arts degree in English and Speech Education. Also in 1964, she married Dennis Peterson and moved to Lexington, Kentucky then taught high school in nearby Frankfort. In 1966 she moved to Boulder, Colorado with her husband; who worked for the IBM Corporation. In 1969, IBM moved them to South Florida and they adopted a six month old boy they named Eric. Sandra lived in Coral Springs, Florida, where she taught in school and was a charter member of the First Presbyterian Church of Coral Springs. She was also active in the establishment and operation of Coral Springs Christian Academy elementary school; which her son Eric attended. In 1979, Sandra received a Master of Science in Teaching degree from Florida Atlantic University, specializing in computer science, and accepted a computer programmer position with the IBM Corporation. In 1994, Sandra moved to Hillsboro, North Carolina when IBM moved their Boca Raton, Florida operations to the Raleigh-Durham area. She was a member of the D.A.R., Jamestown Society, and Red Hat Societies, Kiwanis Club, Freedom Works, the Republican Party (Right to Life), Friends of Orange County Public Libraries in Hillsborough, and the Faith Alliance Church of Durham. Her ashes were buried on March 21, 2012 in her mother Virginia's Brooks plot.